PREPARING FOR YOUR TRIP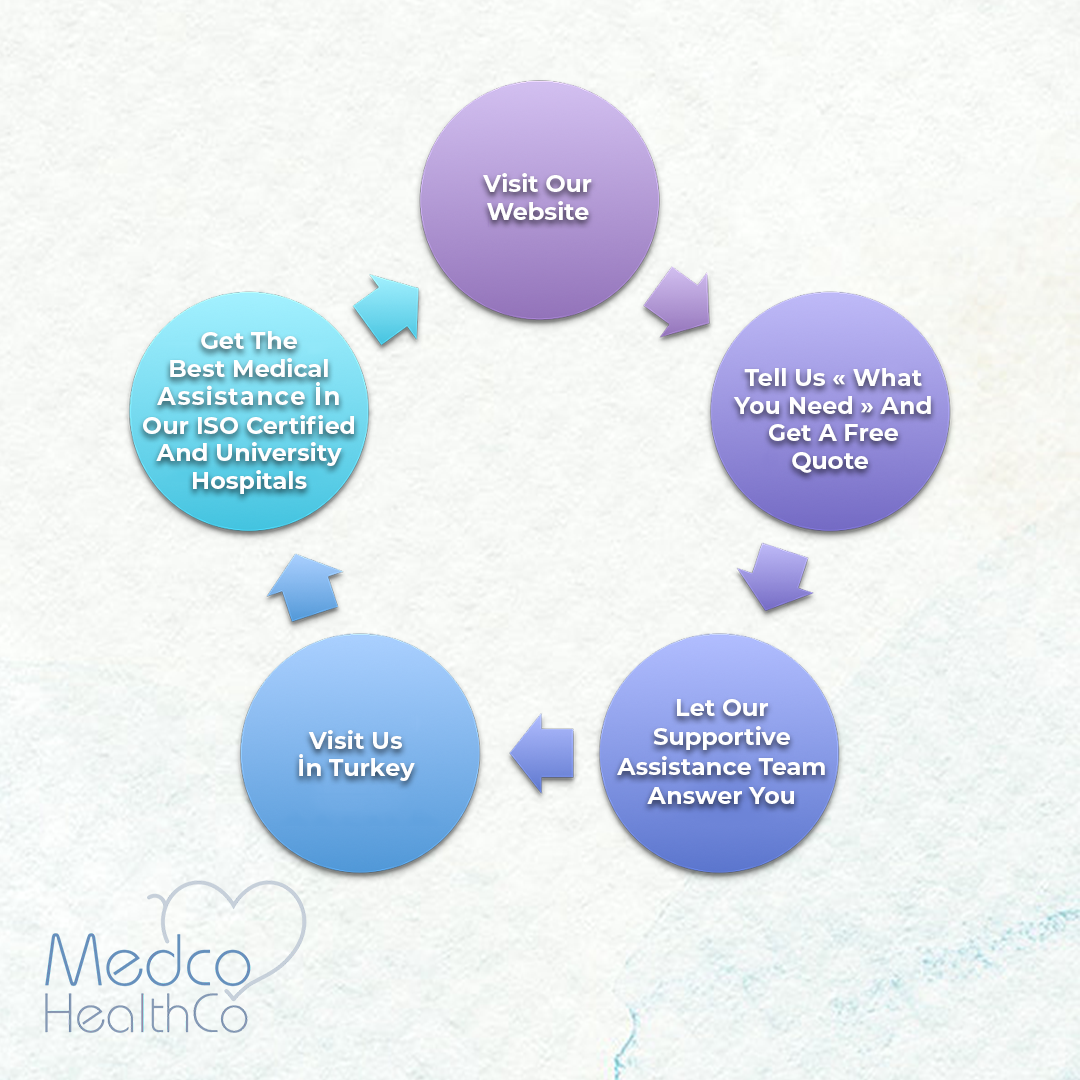 Preparation for an International Trip
Traveling to Turkey from another country for any kind of treatment takes quite a bit of preparation. As Medco HealthCo, our duty is to assist you in getting the right treatment plan and in gathering the correct documents and letting you know what to expect at your first appointment.
Medical Documentation
The following information is required for your first appointment. Failure to provide these records may delay your treatment. In some cases, you may be asked to mail these materials to Medco HealthCo assistants before your arrival.
Medical reports: Bring a hard copy of all medical reports that you have provided to your international patient assistant and any new reports that you have gathered since then.
Diagnostic imaging results: Bring the films and/or CD ROMs (DICOM compatible) of any diagnostic testing relevant to your diagnosis (CT scan, MRI, PET scan, ultrasound, mammogram, X-ray, etc.) or send them to our assistants through we-transfer before arrival.
Visa Information
When your appointment is confirmed, you will receive a packet of information that includes a document which verifies your appointment at Medco HealthCo care centers and estimates the time needed for your initial evaluation and treatment.
This letter must be taken to a Turkish embassy or consulate when you apply for a visa. Online visa applications are available on the Turkish Ministry of Foreign Affairs.
For more information about visas, and whether your country is exempted from taking a visa please visit the Visa Information For Foreigners at the Turkish Ministry of Foreign Affairs website.
Consultation Process
Once you are in contact with our assistants, we will ask you to fill out a questionnaire form where we will ask all about your medical history and recent medical conditions so that we can consult to our Doctor to get you ready for your arrival and an accurate treatment plan is organized for your case. Our assistants may also provide a video conference with you (and if available we can schedule one with our Doctor as well) so that you will have the time to ask any questions you have in mind.
Schedules of your Stay
Our assistants will provide a schedule of your stay and a pre-operative instructions sheet before your arrival so that you will be able to have an idea of what you will need to do before your treatment and have an idea of the expected guide of your stay.
Patient pre-op instructions are also very important especially when you are coming from abroad. You need to be fulfilling the instructions provided by your assistants so to be prepared properly and as not to lose any time for the surgery.
Preparation for the surgery is also as significant as the aftercare process of the surgery. Medco HealthCo assistants' team is ready to work 24/7 to meet your healthcare needs. All of the instructions will minimize the risk of emerging complications and assure that your recovery period goes comfortable. You can find in each treatment offered a guideline that has extensive instructions about how to be prepared for your forthcoming surgery.
Before coming to Turkey
How to pack: Dress for Comfort
Turkey enjoys a variety of climates, and we can say there are 4 seasons in which most of them are warmer than usual in recent years. So, please check the climate before coming so that you can bring with you a dress, a sweater or a coat depending on which season you will be coming at.
We advise you to bring comfortable clothes with you at your hospitalization process - like trainer's suit, dresses, sweaters, leggings, and pj's that will make you feel comfortable as it is easily wearable and comfy.
Also, if you are coming from Europe or America's do not forget to bring a universal adaptor for your electronics chargers as the plugs have two pinholes here unlike the ones in your country (which usually has three pinholes).
If you have permanent nail enamel or a gel on your nails, please kindly remove those before coming.
What do we provide?
All our care centers, hospital rooms and clinics have free wi-fi, but the wi-fi provided may not be as fast as the ones we have at our homes. Please expect to use the wi-fi for only the communication purposes, if you will have communication problems, we will provide you with an alternative solution.
During the Hospitalization process, you will be provided with the medication prescribed by your doctor that will make you feel more comfortable during and after the surgery process. The medication usage that will be prescribed by your doctor for after discharge usage will need to be bought by the patient.
In case needed, we will provide you with stocking socks, which you are requested to wear during your hospital stay and, on your flight, and back to home. We will also provide you with the body surrounding garments and dressings when and if needed. The corsets to be used for outside will need to be bought from your side.
If you will wish to buy an extra pair of any garments, it can be requested to provide you with one with an extra cost that you can purchase here. As your size is subject to change, it will not be a precise and healthy decision to decide which size you need your surgery garment to be before coming over here.
Your Arrival
When everything is clear and you decide to come, you will be requested to book your ticket to Istanbul Airport (IST). We also have another airport on the Asian side of Turkey which is Sabiha Gokcen airport(SAW), it is quite outside Istanbul and in some circumstances, it may be of extra cost to have your transfers made to the hospitals and clinics.
Our assistants will be giving you the details of our driver one day or sometimes the day of your arrival. Upon your arrival, our transfer team will be waiting for you at the non-custom exit area of the airport.
After you are picked up, you will be transferred either to the hotel or your hospital depending on your schedules where you will be either resting or starting with the pre-op tests before the day of your surgery.
Getting ready for the Surgery
1 week before the Surgery
You should quit taking any kind of blood thinners like aspirin and likewise,
If you are on any kind of medication please consult to your own doctor, physician or general practitioner whether it is suitable to continue your medication,
You should quit smoking one week prior and one month after surgery,
You should not consume alcohol one week prior and minimum one week after surgery,
2-3 days Before the Surgery
Taking multivitamins is not necessarily needed. We recommend you to maintain a healthy diet instead of taking external pills such as multivitamin pills, effervescent tablets of minerals and vitamins,
You should eat a salt-free diet 2-3 days prior to your surgery and 2-3 days after your surgery to help minimize edema,
24 hours Before the Surgery
You should not be eating or drinking anything 12 hours before your surgery,
Remove fake nails, nail polish, fake eyelashes, fake hair, any jewelers and any piercing,
Cut your nails - to avoid infection,
The surgery day overlapping with your menstrual cycle is fine and you can still be operated,
The day of Surgery
If needed, the blood tests and pre-op tests are done. Your pre-operative consultation by your surgeon will be done right before your operation, where you go over the details of your surgery with the surgeon. The surgeon will mark you up accordingly and the consultation will end after both sides agree on the procedure to be done and everything is crystal clear,
Please make sure to discuss all the points and marks in detail with your surgeon during your consultation to avoid any misunderstanding afterwards,
Make sure to read the consent form before signing and ask any questions you have on mind,
After your Surgery
The majority of surgery requires only 1 night stay in the hospital. Larger operations, however, will require 2 or more nights stay at the hospital,
You should use your surgery garments for as long as you are recommended for the best results,
No heavy sports, heavy lifting or running for 2 weeks after your surgery. On the other hand, you are also requested not to be completely inactive and immobilized after your surgery,
It is recommended for you to have short walks regularly to help with the blood circulation and to keep the metabolic rate high.